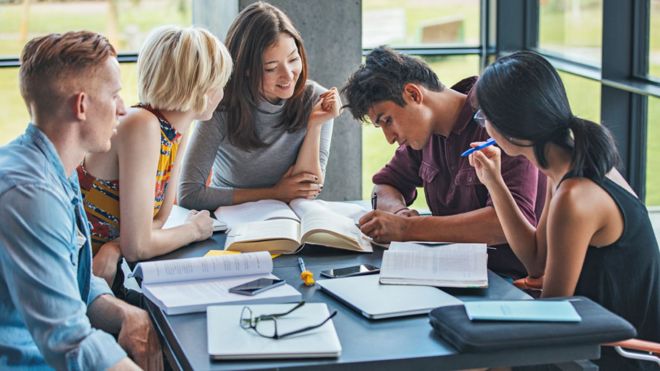 University tuition fees in England should be cut to £7,500, according to a review which would balance this by extending student loan repayments from 30 to 40 years.
The government-commissioned review calls for better funding for students in vocational education.
Maintenance grants to support poorer students, scrapped in 2016, should also be reinstated, says the review.
"I believe it is time to bring them back," said Prime Minister Theresa May.
Lower fees, longer repayments
But Mrs May, soon to leave Downing Street, acknowledged the fate of the proposals would depend on the next prime minister.
"It will be up to the government to decide, at the upcoming spending review, whether to follow this recommendation," she said.
The review warns that "some students are charged too much for their degrees" – and calls for the maximum fee to be reduced from £9,250 per year to £7,500, beginning from 2021-22.
This fee level would be frozen until 2023-24, says the review, after which it would rise with inflation.
Such changes to the level of fees would have to be approved by Parliament before they could be implemented.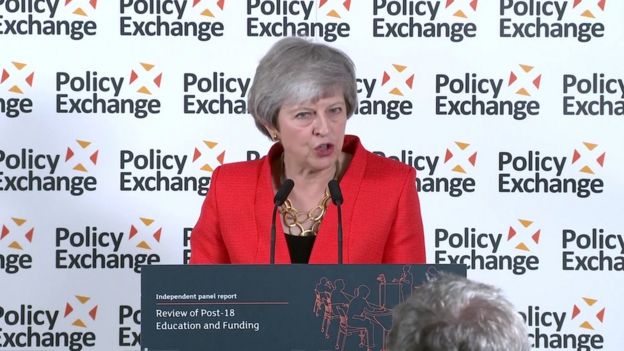 Shakira Martin, president of the National Union of Students, said it would help to address "the debt aversion caused by high fees, high living costs and the lack of maintenance grants".
Student loans into their sixties
But students would pay back loans for another decade. Instead of any unpaid loans being cancelled 30 years after graduation, deductions would continue for 40 years.
This could see graduates paying back loans through most of their working lives into their sixties.
Graduates would continue to be charged interest rates based on inflation plus 3% – but interest charges while students were still studying would be reduced.
Repayments would also begin at an earnings threshold of £23,000 rather than the current £25,725.
But the Institute for Fiscal Studies warned that the biggest winners could be the highest earners.
The think tank's researcher Jack Britton said it would mean the highest earning graduates benefiting the most from the proposed changes, while lower and middle earning graduates will be squeezed."
A former universities minister, Jo Johnson, said: "The full fees at the moment are only really repaid by those who go on to earn the most in their careers.
"Those who are asked to pay the fees for longer, for as much as 40 or more years, as Philip Augar is proposing, will be lower-earning and middle-earning graduates and, in this sense, this is regressive."
Maintenance grants
The wide-ranging report calls for the restoration of non-repayable maintenance grants for poorer students, worth up to £3,000 per year.
There would also be a "lifelong learning loan allowance", accessible for those in upper levels of technical qualifications as well as universities, and open to mature students as well as school-leavers.
Dr Philip Augar, who chaired the review, said the recommendations would "level the playing field" between those who go to university and those who do not.
Giving an example, he told the Today programme: "A young woman who perhaps left college at 18, had a young family… she wants to go back to study, she hasn't got the time to do a full degree.
"Our proposals would allow her to borrow money to cover tuition, repaid over her lifetime."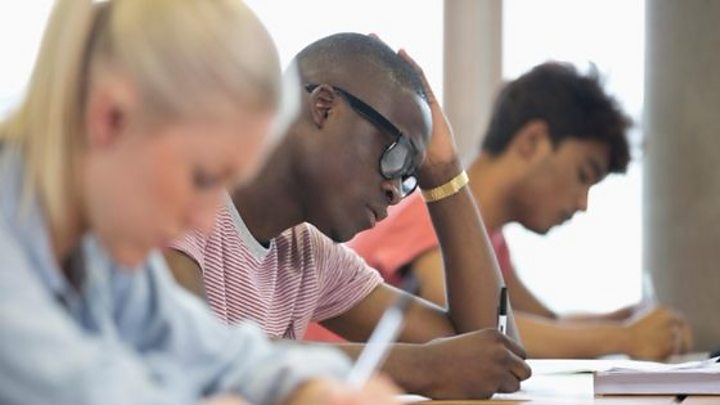 Meanwhile, speaking about the higher education funding, Dr Augar said: "What we are trying to do, as far as HE students are concerned, is give them better value in a sense, make sure no one is paying more than the reasonable cost of provision.
"But we think there is a need that they [graduates] should pay back more to restore the balance between the taxpayer subsidy and the student beneficiary."
The cost of university accommodation should also be scrutinised by the regulator, the Office for Students, the review says.
Universities have complained that they would struggle with a loss of fee income – but the report says the gap should be made up with direct funding.
There would, however, be higher levels of funding for some subjects – such as those that are expensive to deliver or those considered by the government to be priorities.
'Care and neglect'
The report highlights the need to shift more funding towards further education rather than universities.
"Our work revealed that post-18 education in England is a story of both care and neglect, depending on whether students are amongst the 50% of young people who participate in higher education or the rest," said Dr Augar.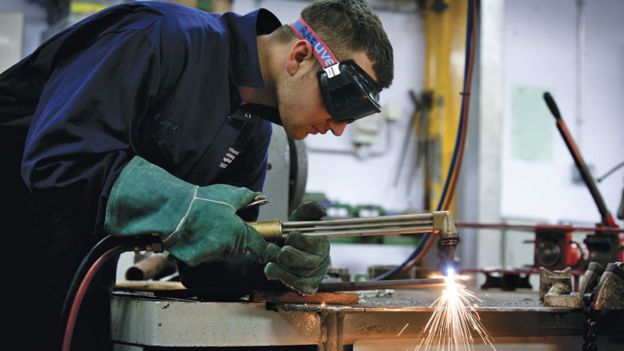 He warned that this "disparity simply has to be addressed" – with calls for more support for further education colleges, more access to loans for students, investment in staffing and £1bn extra for capital spending.
"For too long, we've had a system that works for half the population whilst neglecting the other half," said David Hughes, chief executive of the Association of Colleges.
He welcomed the shift in emphasis to improving vocational education and tackling skills shortages, saying that the "education and training system is not delivering to meet these needs now, so changes and fairer investment are vital".
'Very little action'
Tim Bradshaw, chief executive of the Russell Group of universities, said extra funding for further education was "long overdue".
But he warned that if the next prime minister went ahead with a fee cut, there needed to be a "cast-iron guarantee" that the funding shortfall would be replaced.
In Scotland, Prof Sir Anton Muscatelli, principal of the University of Glasgow, expressed concern that Scottish universities would lose £31m a year if the fees paid by English students studying north of the border are cut to £7,500.
Currently, Scottish students get free university tuition in Scotland, while English students studying there have to pay £9,250 per year in fees.
Labour's shadow education secretary, Angela Rayner, said the review was "all talk, empty promises and very little action".
With no guarantees of any extra funding to support it, she said the review "does nothing to address the burning injustices facing our education system".
Education Secretary Damian Hinds defended the current student finance system as "fair and progressive" but said there were "also courses where value, in its widest sense, is not being delivered either to students or to taxpayers".
The prime minister, who originally launched the review, welcomed its call for maintenance grants, both for university and vocational courses.
"My view is very clear – removing maintenance grants from the least well-off students has not worked," said Mrs May.
---
Are you a student or about to be one? What difference would this proposal make or have made to you? Email haveyoursay@bbc.co.uk.
Please include a contact number if you are willing to speak to a BBC journalist. You can also contact us in the following ways:
Or use the form belowYour contact detailsNameYour E-mail address (required)Town & CountryYour telephone numberComments (required)
If you are happy to be contacted by a BBC journalist please leave a telephone number that we can contact you on. In some cases a selection of your comments will be published, displaying your name as you provide it and location, unless you state otherwise. Your contact details will never be published. When sending us pictures, video or eyewitness accounts at no time should you endanger yourself or others, take any unnecessary risks or infringe any laws. Please ensure you have read the terms and conditions.
The News Source is bbc.com