Great story from the Miami Herald which reports that Florida's governor allegedly put pressure on the paper's lawyers to quash a law suit demanding that the state divulge records showing how many people in care homes have tested positive for the virus.
The law firm, Holland & Knight, told Sanford Bohrer, a senior partner with decades of representing the Miami Herald, to stand down and abandon the lawsuit, the paper reports. It has refiled the suit through another law firm.
The governor, Ron DeSantis, a Republican, has been accused of responding too slowly to the threat of the virus.
The coronavirus behind Covid-19 can produce three times more pathogens than the one behind Sars, a Hong Kong University study has found.
According to a report in the South China Morning Post, the study is the first of its kind based on testing of lung tissue from Covid-19 patients.
The team infected lung tissues donated by six patients and found that Sars-CoV-2 could replicate by about 100 time within 48 hours, compared to the Sars virus peaking at about 10-20. The new virus also induced slower immune and inflammatory responses, it said.
"The virus is like a ninja, replicating inside the body with lower inteferons and inflammatory response," said Dr Jasper Chan Fok-woo, a colinical assistant professor at HKU's medical school.
Mild symptoms or a lack of them has made this virus particularly difficult to contain, and the scientists warned measures would have to continue.
Microbiologist Yuen Kwok-yung sai there was "almost no possibility of containing the virus before July".
A meeting of the North Korean ruling party's central committee, presided over by Kim Jong Un, has called for stricter and more thorough countermeasures to ensure the safety of its citizens.
A joint resolution was adopted to take "more thorough state measures for protecting life and safety of (its) people from the great worldwide epidemic disease."
The Korean Central News Agency said the widespread virus has created obstacles to the country's effort in its economic construction, though it added the country "has been maintaining (a) very stable anti-epidemic situation" thanks to its "strict top-class emergency anti-epidemic measures … consistency and compulsoriness in the nationwide protective measures."
A World Health Organisation representative to the Democratic People's Republic of Korea told Reuters on Tuesday that the country continues testing of the coronavirus and has more than 500 people in quarantine but still had no confirmed cases yet.
From Reuters in Russia, where a "huge influx" of coronavirus patients has started to put a strain on Moscow's hospitals.
"The situation in both Moscow and St Petersburg, but mostly in Moscow, is quite tense because the number of sick people is growing," Kremlin spokesman Dmitry Peskov said in an interview on state television, news agencies reported.
"There is a huge influx of patients. We are seeing hospitals in Moscow working extremely intensely, in heroic, emergency mode."
Russia's coronavirus crisis response centre said hospitals were taking all possible measures to ensure rapid admissions and that cases of ambulances needing to wait hours to drop off patients was not a systemic issue.
Russia has reported 13,584 cases of the virus, and the authorities said on Saturday that 12 new coronavirus-related deaths in the last day had pushed the death toll to 106.
Mexico reported 375 new cases of the coronavirus on Saturday, bringing the country's total to 4,219 cases and 273 deaths, the health ministry said.
German Foreign Minister Heiko Maas on Saturday condemned aggression towards French people travelling into border areas, which has flared amid the coronavirus pandemic, AFP reports.
"Coronavirus knows nothing of nationality. It's the same for human dignity. It hurts to see how some of our French friends have been insulted and attacked because of Covid-19," Mass posted on Twitter.
"Such behaviour is completely unacceptable. And besides: we are in the same boat," he added.
Maas' tweet came in response to a similarly apologetic post from Anke Rehlinger, economy minister in Saarland state which borders France's Grand Est region.
"I apologise to our French friends for these isolated incidents."
Some days before, the mayor of a small town on the border, Gersheim complained of "a certain hostility to our French friends" in his district, including people being spat at.
One had been told to "go back to your corona-ridden country," Michael Clivot added.
The French consul in Saarland, Catherine Robinet, confirmed that 'isolated' incidents targeting French nationals had taken place in the region, but she urged against "generalising" the anti-French sentiment, adding that she had also received numerous messages of support.
Some people in France also have reacted poorly to Germans in the country, she added.
China reports 99 new cases, no deaths
Mainland China has reported 99 new cases on Saturday, of which all but two were imported. The country's national health commission said no one had died from the virus on Saturday.
The two local cases were in Heilongjiang, China's northernmost province and which borders Russia.
Of the 97 imported cases recorded, 43 were in the city of Shanghai.
There were no new cases reported in Hubei, the province where the outbreak is believed to have begun.
Elderly face whole year in lockdown – EU
Elderly people may have to be kept isolated until the end of the year to protect them from the coronavirus, EU chief Ursula von der Leyen has said.
"Without a vaccine, we have to limit as much as possible contact with the elderly," she told the Germany daily Bild.
"I know it's difficult and that isolation is a burden, but it is a question of life or death, we have to remain disciplined and patient."
"Children and young people will enjoy more freedom of movement earlier than elderly people and those with pre-existing medical conditions," she said.
She said she hoped that a European laboratory will develop a vaccine towards the end of the year.
To ensure that people can be quickly vaccinated, authorities are already in talks with producers on gearing up for world production, she added.
Updated

In Australia more than a thousand people will land on home soil after weeks stranded abroad, AAP reports.
Long-stuck travellers flown from Peru, Uruguay, India and Nepal will trickle through Sydney and Melbourne on Sunday before being shuttled to hotels for two weeks of quarantine.
Nearly 100 of them spent weeks stranded on an Antarctic cruise ship off the coast of Uruguay while another 63 left Kathmandu on a Canadian government-backed flight.
"Thanks also to (the) Canadian High Commission in New Delhi and Canadian Govt. To do what you did remotely … hats off," Australian Ambassador to Nepal Peter Budd tweeted on Saturday night.
Puerto Rico, which has reported more than 780 cases of Covid-19, and at least 42 deaths, will continue its lockdown until at least 3 May.
Governor Wanda Vázquez announced on Saturday that people must stay indoors from 9pm to 5am, and only leave their house outside those hours to buy food or medicine or go to the bank. Non-essential businesses will remain closed.
However, she lifted all license plate restrictions and said hardware stores and car repair shops can operate once a week on a limited schedule.
Everyone is still required to wear a face mask to enter any business as Health Secretary Lorenzo González warned that the peak of cases is not expected until early May.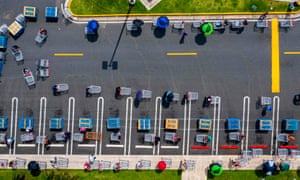 Updated

Saudi Arabia's King Salman has approved an extension of the kingdom's curfew until further notice, the state news agency (SPA) reported early on Sunday.
The country has been under a 7pm to 6am curfew since 23 March, due to the rate at which the coronavirus is currently spreading.
The capital Riyadh, and other big cities, were plcaed under a 24-hour curfew last week.
The Pope has urged people not to "yield to fear" in his Easter address.
"Easter offers a message of hope in peoples darkest hour," Pope Francis said at a late-night vigil Mass Saturday in St. Peters Basilica. The public was barred because of the pandemic, and around the world Catholics followed his service and other Masses on television or online.
"Do not be afraid, do not yield to fear: This is the message of hope," said the Pope.
"It is addressed to us, today. These are the words that God repeats to us this very night."
He encouraged people to be "messengers of life in a time of death," again condemning the arms trade and urging those better off to help the poor.
Hello, welcome to the Guardian's continuing international coverage of the coronavirus pandemic. Thanks to Molly Blackall and other colleagues in London for taking us through the last day. This is Helen Davidson, in Sydney, to take you through from here.
If you would like to follow the Australia-focused blog you can find it here.
For US-specific updates, head over the the US blog here.
Here's a quick summary of the latest international developments.
The global death toll has reached 108,281, according to the Johns Hopkins university tracker.
For the first time in history, all 50 US states are now under disaster declarations, after Wyoming became the final state to announce.
Pope Francis has urged people not to "yield to fear" at his Easter address. The event was scaled back due to coronavirus, with just two dozen attendees, a smaller choir, and no processions or baptisms.
British prime minister Boris Johnson has said he owes his life to the NHS. He has been in hospital since Sunday night, and had spent three nights in intensive care.
British opposition parties and senior Conservatives have united in calling on the British government to reopen Parliament.
Seven African states have called on authorities to explain allegations of mistreatment of Africans in Guangzhou city. Many report having been evicted, tested for coronavirus several times without being given results and being shunned and discriminated against in public.
The Kremlin have warned that Moscow's hospitals are under strain after a "huge influx" of coronavirus cases.
The World Health Organisation have warned that Belarus must take further action to combat coronavirus, as they enter a new phase of infection. Belarus are still hosting football games, and their President, Alexander Lukashenko, has downplayed restrictive measures. In recent weeks, he has said that drinking vodka and bathing in saunas could help fight the virus.