US President Donald Trump said on Monday he would issue a statement about the World Health Organization in the near future and said it had "done a very sad job" in its handling of the coronavirus.
Trump told a White House event he would make a decision about US WHO funding soon, and that he had he considered reducing it to $40 million, but some felt that was too much. Asked why he had not addressed a virtual ministerial meeting of the WHO earlier in the day, he replied:
"I chose not to make a statement today. I'll be giving them a statement, sometime in the near future, but … I think they've done a very sad job in the last period of time."
US deaths pass 90,000
The coronavirus death told in the US passed 90,000 Monday, and the number of cases climbed above 1.5m, according to the Johns Hopkins University tracker.
The milestone came as more states seek to loosen restrictions and the president tweeted, "REOPEN OUR COUNTRY!"
The president has questioned the death toll, suggesting that the numbers have been inflated. But researchers from the CDC who analyzed deaths in New York over the past two months concluded that the actual death toll is likely higher than the reported number.
All the states, except Connecticut, have relaxed stay-at-home orders, to varying degrees. But only 18 states showed a downward trend of new cases according to data from Johns Hopkins.
WHO chief promises review of coronavirus response
The World Health Organization said on Monday an independent review of the global coronavirus response would begin as soon as possible, and received backing and a hefty pledge of funds from China, in the spotlight as the origin of the pandemic.
WHO Director-General Tedros Adhanom Ghebreyesus made his promise during a virtual meeting of the WHO's decision-making body, the World Health Assembly, at which Chinese President Xi Jinping defended his country's own handling of the crisis.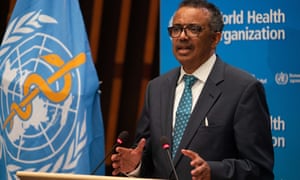 US President Donald Trump has fiercely questioned the WHO's performance during the pandemic, withdrawing U.S. funding after accusing it of being too China-centric, and at the same time leading international criticism of China's lack of transparency in the early stages of the crisis.
Tedros, who has always promised a post-pandemic review, said it would come "at the earliest appropriate moment" and provide recommendations for future preparedness. He received robust backing from the WHO's independent oversight panel.
A resolution drafted by the European Union calling for an independent evaluation of the WHO's performance appeared to have won consensus backing among the WHO's 194 states.
In its first report on the WHO's handling of the pandemic, the seven-member oversight committee said the UN agency had "demonstrated leadership and made important progress in its COVID-19 response".
Summary
Hello and welcome to today's coronavirus live blog.
I'm Helen Sullivan, with you for the next few hours.
The US president Donald Trump has said he is taking hydroxychloroquine, a drug approved to treat malaria, lupus and rheumatoid arthritis, as a precaution against coronavirus, despite warnings from the Food and Drug Administration that the drug should not be used for that purpose because it could cause irregular heartbeats and other cardiac trauma.
Dr Anthony Fauci, the country's top infectious disease doctor, and a member of the White House coronavirus taskforce, has repeatedly warned that there is no conclusive evidence to support using the drug.
Meanwhile deaths in the US passed 90,000 and confirmed infections topped 1.5 million, according to Johns Hopkins University figures. The US Centers for Disease Control have projected that deaths in the US could reach 100,000 by 1 June.
Here are the main developments from the last few hours:
Trump says he is taking hydroxychloroquine. The president said he has been taking hydroxychloroquine, a drug he has fiercely touted in the past but that was found to have a very mixed effect on patients. The US Food and Drug Administration cautions against use of hydroxychloroquine or chloroquine for Covid-19 outside of a hospital setting or a clinical trial due to risk of heart rhythm problems.
Some areas of New York City have seen death rates nearly 15 times higher than others, according to data released by New York City's health department, showing the disproportionate toll taken on poorer communities. The highest death rate was seen on the edge of Brooklyn in a neighbourhood dominated by a large subsidised-housing development called Starrett City.
Qatar will close all shops and halt all commercial activities, from 19 to 30 May, state news agency QNA has reported, citing a decision by Qatar's cabinet. The closure excludes pharmacies, food supply stores and food deliveries.
Italy registers lowest deaths since March as bars, restaurants, shops, hairdressers, museums and churches reopen. Italy registered 99 deaths and 451 infections on Monday. There is also a significant fall in new infections in Lombardy, the region worst affected by the virus, from 326 on Sunday to 175 on Monday.
Saint Peter's Basilica reopens. Visitors are allowed to return to Saint Peter's Basilica in the Vatican after more than two months of lockdown. A handful of visitors queue up, observing social distancing rules and under the watch of police officers wearing face masks, before having their temperatures taken to enter the church.
A total of 14,790 people died in April in Belgium. It's the worst daily toll since the second world war, according to a study.
Quarantine for UK arrivals expected to cover air, rail, car and sea. Enforced quarantine measures at the UK border expected to be unveiled this week are to cover arrivals by sea, car and international rail, as well as air, the Guardian understands.
Macron and Merkel present joint EU recovery plan. The French president, Emmanuel Macron, and the German chancellor, Angela Merkel, have presented a joint plan to spur EU recovery after weeks of debate over how to deploy billions of euros needed to quickly end a painful recession. The full text of the plan is here.
EU may give green light to sale of possible Covid-19 treatment.The European Union may give an initial approval for sale of the drug remdesivir as a Covid-19 treatment, the head of its medicines agency says, fast-tracking the drug to market amid tight global competition for resources.
UN chief calls for an "end to hubris". The pandemic should serve as a wake-up call to a world that must be more united, the UN secretary general, Antonio Guterres, says.
Spain reports lowest death toll for two months. Monday's overnight death toll in Spain is 59, the lowest figure in two months, the country's government says. The cumulative death toll rises to 27,709, while the number of confirmed cases increases to 231,606 from 231,350 the previous day, according to health ministry figures.